eCrime 2019 – Symposium on Electronic Crime Research
eCrime 2019 – Pittsburgh, PA – November 13, 14 & 15
For 2019 APWG's members will once again come together to bridge the gaps between cybersecurity operations, research and consumer messaging with our fourteenth Symposium on Electronic Crime Research (eCrime 2019).
eCrime 2019 will look at the operational challenges and development of common resources and best practices for first responders and forensic professionals. In addition, the conference will dive into current research projects and future areas of interest for cybercrime investigations, forensic techniques and infrastructure defense. including our peer-reviewed cybercrime published paper program with the IEEE-SA.
Operational and research insights for fighting electronic crime will be complimented and augmented with discussions on citizen awareness programs to help ensure a secure computing environment. This year's meeting will bring a focus on the shifting nature of cybercrime and the inherent challenges of managing that dynamic threatscape.
With eCrime 2019 we will review the development of response paradigms and resources for counter-cybercrime managers and forensic professionals in the private and public sectors. Presenters will review case studies of national and regional economies under attack, narratives of successful trans-national forensic cooperation, while considering models for cooperation against ecrime and examining resources for cybercrime response and forensic enterprise.
This program will be held on November 13th – 15th at Carnegie Mellon University, Pittsburgh, PA, USA.
Please contact Deputy-Secretary Foy Shiver for details via email at foy@apwg.org.
Register Now To Participate
Call for General Session Proposals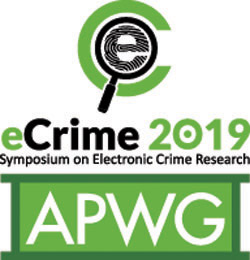 APWG members, research partner, correspondents and cybercrime experts in all fields are invited to submit their proposals for presentations and panel discussions.
The APWG eCrime 2019 conference investigates the modern phenomena of electronic crime from the point of view of the responder who must undertake forensic exercises to investigate cybercrimes and protect both consumers and enterprise computer and network users every day. eCrime presenters discuss all aspects of electronic crime and ways to combat it.
Topics of interest include (but are not limited to):
Detecting and Mitigating eCrime (e.g. cryptocurrencies, malware, phishing, ransomware, etc.)

Electronic/Cyber Crime and Fraud

Emerging attack trends in Cybercrime
CryptoCurrency analysis for ecrime investigations
Digital Forensics tools and techniques, investigative procedures, and evidence acquisition, handling and preservation
Frameworks for avoiding damages to systems and networks, including blocklisting and detection techniques
Case studies on Cybercrime related activity
Instructions for Authors: General Session Track
Submissions should include author names, affiliations and acknowledgments. They should not exceed 2 letter-sized pages. Proposals should include at a minimum a title and an abstract that clearly summarizes the material to be covered. Presentation slides or an outline of the talk or panel are encouraged but not required.
For proposal submissions register an account then use the New Submission option at https://ecrime-gs-2019.hotcrp.com/.
Venue
For this year's eCrime event, all sessions, meetings and social activities will be held at the Jared L. Cohon University Center on the CMU Campus.
Jared L. Cohon University Center
5032 Forbes Avenue
Pittsburgh, PA 15213
Below is a listing of properties less than 2 mils from campus. Those with an asterisk offer a shuttle to campus.
Wyndham Pittsburgh University Center*
100 Lytton Ave.
Pittsburgh, PA 15213 (Oakland)
412-682-6200 1-800-864-8287
Shadyside Inn All Suites Hotel*
5405 Fifth Ave.
Pittsburgh, PA 15232 (Shadyside/Oakland)
412-682-2300
Hilton Garden Inn Pittsburgh – University Place*
3454 Forbes Ave.
Pittsburgh, PA 15213 (Oakland)
412-683-2040
Residence Inn by Marriott*
3896 Bigelow Blvd.
Pittsburgh, PA 15213 (Oakland)
412-621-2200
1-800-331-3131
Quality Inn – University Center
3401 Blvd. of the Allies
Pittsburgh, PA 15213 (Oakland)
412-683-6100
1-800-245-4444
Hampton Inn*
3315 Hamlet St.
Pittsburgh, PA 15213 (Oakland)
412-681-1000
1-800-HAMPTON
The Inn on Negley
703 S. Negley Ave.
Pittsburgh, PA 15232 (Shadyside)
412-661-0631
Courtyard by Marriott Shadyside/Oakland*
5308 Liberty Ave.
Pittsburgh, PA 15224 (Shadyside/Oakland)
412-683-3113 or 1-800-321-2211
Friendship Suites
301 Stratford Ave.
Pittsburgh, PA 15232 (Friendship/Shadyside)
412-392-1935