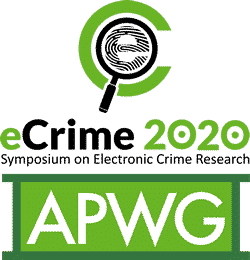 eCrime 2020 Research Papers
The research papers to be published in conjunction with the Virtual 2020 Symposium on Electronic Crime Research have been selected.  Register and join the event to be hosted November 16 – 19, 2020 to see the authors present their work and ask questions.  Full papers will be made available to member before the event and all others once officially published by the IEEE.
Detail about the eCrime 2020 event are posted here: https://apwg.org/ecrime2020/
---
Patterns of online repeat victimisation and implications for crime prevention
Sara Correia, Swansea University
Averages don't characterise the heavy tails of ransoms.
Eireann Leverett, Concinnity Risks
Eric Jardine, Virginia Tech
Erin Burns, Concinnity Risks
Ankit Gangwal, Università di Padova
Dan Geer, In-Q-Tel
Analysis of Darknet Market Activity as a Country-Specific, Socio-Economic and Technological Phenomenon
Anela Sutanrikulu, Technical University of Munich
Sandra Czajkowska, Technical University of Munich
Jens Grossklags, Technical University of Munich
Checkout Checkup: Misuse of Payment Data from Web Skimming
Phoebe Rouge, Federal Trade Commission
Christina Yeung, Federal Trade Commission
Daniel Salsburg, Federal Trade Commission
Joseph A. Calandrino, Federal Trade Commission
BlindPhish: A Blind Scanning System for EarlyDetection of Phishing Attacks
Qian Cui, University of Ottawa
Guy Jourdan, University of Ottawa
Gregor Bochmann, University of Ottawa
Iosif-Viorel Onut, IBM Centre for Advanced Studies
Scam Pandemic: How Attackers Exploit Public Fear through Phishing
Marzieh Bitaab, Arizona State University
Haehyun Cho, Arizona State University
Adam Oest, Arizona State University
Penghui Zhang, Arizona State University
Zhibo Sun, Arizona State University
Rana Pourmohamad, Arizona State University
Doowon Kim, University of Tennessee
Tiffany Bao, Arizona State University
Ruoyu "Fish" Wang, Arizona State University
Yan Shoshitaishvili, Arizona State University
Adam Doupe, Arizona State University
Gail-Joon Ahn, Arizona State University
Wordythief: A Malicious Spammer
Renee Burton, Infoblox
Vadym Tymchenko, Infoblox
Minh Hoang, Infoblox
Nicholas Sundvall, Infoblox
Michael Josten, Infoblox
Jim Mozley, Infoblox
Darby Wise, Infoblox
Phishing With a Darknet: Imitation of Onion Services
Freddie Barr-Smith, University of Oxford
Joss Wright, University of Oxford
Beneath the radar: Exploring the economics of business fraud via underground markets
Carlos Ganan, Delft University of Technology
Ugur Akyazi, Delft University of Technology
Elena Tsvetkova, Delft University of Technology
Empirical analysis of losses from business-email compromise
Geoffrey Simpson, University of Tulsa
Tyler Moore, University of Tulsa
Don't Fish in Troubled Waters! Characterizing Coronavirus-themed Cryptocurrency Scams
Pengcheng Xia, Beijing University of Posts and Telecommunications
Haoyu Wang, Beijing University of Posts and Telecommunications
Xiapu Luo, The Hong Kong Polytechnic University
Lei Wu, Zhejiang University
Yajin Zhou, Zhejiang University
Guangdong Bai, University of Queensland
Guoai Xu, University of Posts and Telecommunications
Gang Huang, Peking University
Xuanzhe Liu, Peking University
Ten years of attacks on companies using visual impersonation of domain names
Geoffrey Simpson, University of Tulsa
Tyler Moore, University of Tulsa
Richard Clayton, University of Cambridge
When will my PLC support Mirai? The security economics of large-scale attacks against Internet-connected ICS devices
Michael Dodson, University of Cambridge
Alastair R. Beresford, University of Cambridge
Daniel R. Thomas, University of Strathclyde
Resource Networks of Pet Scam Websites
Benjamin Price, University of Bristol
Matthew Edwards, University of Bristol